Laat 108 Alkmaar
Pop Up Expositie & Shop was van december '17 tot juni '18 een expositie/galerie/winkel in het centrum van Alkmaar.
De prachtige raamgevel van Laat 108 was gevuld met mijn werk. De etalage-expositie was overdag te zien. Binnen waren tekeningen, schilderijen op (zeilboot-) zeil, kunst kaarten, vintage spullen, de kalender 2018 Jaar van de Hond en prints te zien en te koop.  Kunst & Curiosa!
Het was aan de Laat 108, Alkmaar (t.o. Sissy Boy en Naaldkunst, om de hoek van een van de Prachtstraatjes – de Boterstraat)
Dit concept zou ik graag op een andere tijdelijke locatie voortzetten! Ik hou mij aanbevolen!!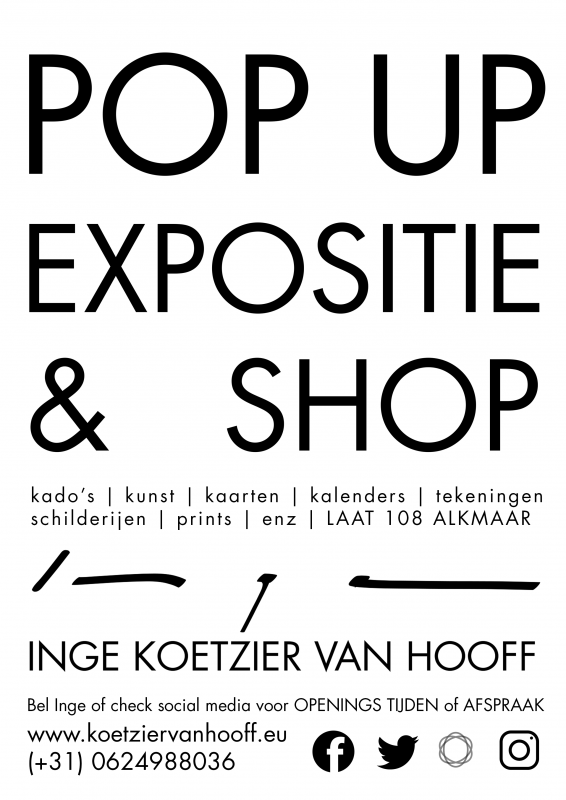 POP UP EXHIBITION & SHOP
When in Alkmaar – Netherlands – come and have a look at the most beautiful shop windows displaying my work. The newest WINDOW EXHIBITION in town! Art & Vintage inside, check this page for opening hours or contact me to come and visit.
Address: Laat 108, Alkmaar, Netherlands
Update: the pop up shop at Laat 108 in Alkmaar was from Dec '17 until June '18. If you know of another place to continue this concept, let me know?!