Modeltekenen –

LET OP: IVM DE CORONA SITUATIE VOORLOPIG GEEN MODELTEKENEN
Vrij tekenen naar (gekleed) model, voor zowel beginnende als gevorderde tekenaars.
Geen les, maar vrij werken – een goeie gelegenheid om te oefenen en om te experimenteren!
Al het basis materiaal is aanwezig, net als muziek, thee, koffie en koek.
MODELTEKENEN: Steeds iedere 1e zaterdag van de maand, van 11.00-12.30 uur LET OP: IVM DE CORONA SITUATIE VOORLOPIG GEEN MODELTEKENEN
HOE: Het model neemt korte, wisselende poses aan en dit bouwen we langzaam op naar iets langere standen. Bij deze manier van modeltekenen gaat het vooral om snelle figuur schetsen; geen tot in detail uitgewerkte tekening van 1,5 uur, maar een hele stapel vlotte schetsen.
In overleg zullen we ook eens wat langere standen doen. Ook geschikt om je te richten op portret  – net wat je zelf wilt.
Zo kunnen de tekenaars echt goed oefenen in het vlot neerzetten van de hele figuur in de juiste verhoudingen, met levendigheid en eigen stijl!
WAAR: In mijn atelier: Nieuwedam 2,  Schoorl, (gemeente Bergen) Noord Holland.
Gemakkelijk te bereiken met fiets, auto (gratis parkeren) en openbaar vervoer (bushalte Damweg, Schoorl).
HOEVEEL: € incl. materiaal, koffie, thee etc.
DOE MEE: Geef je graag steeds per keer en liefst 1 week vtv op.
email: inge@koetziervanhooff.eu of mobiel/Whatsapp: 0624988036
Tijdens de verschillende activiteiten in het atelier kunnen foto's gemaakt worden die op deze website of social media gebruikt kunnen worden. Wil je niet op deze foto's voorkomen, laat dat even weten.

Wil je graag wat meer 'houvast' geef je dan op voor teken / schilderlessen of een workshop Modeltekenen of Portrettekenen!
Model drawing:  Every first Saturday of the month 11-12.30 hr
In my studio in Schoorl (Bergen nh) you can join the model drawing sessions.
There will be a live, dressed, model. Mostly short poses for quick figure sketches, longer for portrait poses.
No class/teaching, but if you want I'll help you to get started. You can feel free to do your thing, to practise and experiment. You can use the basic materials handed out or bring your own favourites.
There's music, coffee and tea, to provide a relaxed atmosphere in which everybody can concentrate and feel comfortable.
Join a model drawing workshop if you like to learn the basics of model drawing! A workshop portrait drawing is also very useful to learn the skills. Or come to drawingclass!
My studio is at Nieuwedam 2, Schoorl, (municipality of Bergen) Noord Holland, the Netherlands
€ including all materials, coffee, tea etc.
Please let me know if you're joining us, minimum number of persons is 4, maximum 10
email: inge@koetziervanhooff.eu/whatsapp: + 31-624988036
Would you like to draw with your own group (friends, family, business etc.)? –  you can! In my studio or on location in or around Alkmaar. Just contact me without any obligation to discuss all possibilities.
Previously I organised this kind of model drawing sessions on Lanzarote, here you can see how fun that was!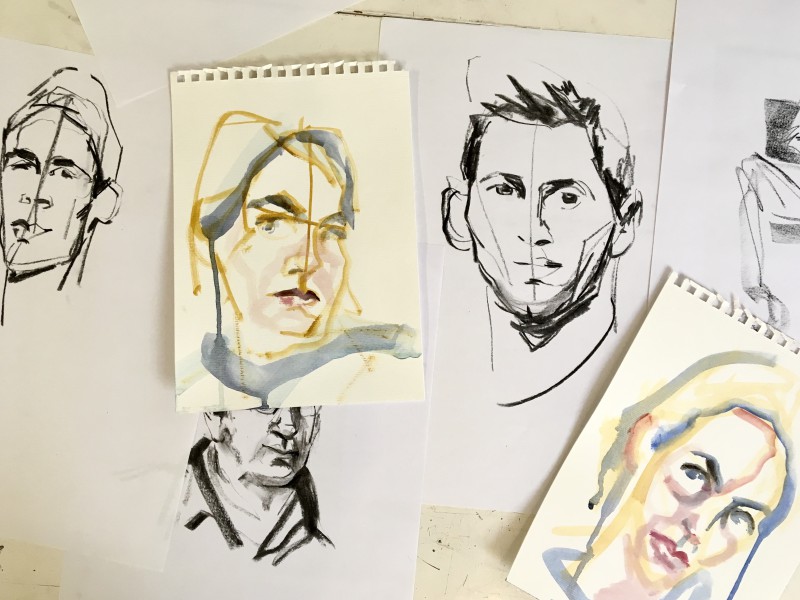 ---
Zeichnen nach Modell
Jeder kann teilnehmen – Anfänger und Fortgeschrittene.
Es gibt ein Portrait- oder ein Figurenmodell. Jedes Mal ein anderes, gekleidetes Modell zum zeichnen.
Es gibt Anleitung, wenn gewünscht, aber Sie können auf Ihre eigene Weg arbeiten.
Material ist vorhanden, Sie können auch Ihr eigenes Material mitbringen.
Musik, Kaffee und Tee, eine entspannte Atmosphäre, in der sich alle konzentrieren und wohlfühlen können.
1,5 Stunden, 15 €
Modellzeichnung: jeden ersten Samstag im Monat von 11 bis 12.30 Uhr
Es findet statt in meinem Atelier in Schoorl (Gemeinde Bergen) Noord Holland.
15€ jedes Mal.  Inkl. Material, Kaffee, Tee etc.
Bitte rechtzeitig angeben.
Mindestanzahl von Personen ist 4, maximal 10
E-Mail: inge@koetziervanhooff.eu / WhatsApp: + 31-624988036