Deze 10 dagen vol kunst ben ik in de Albert Heijn supermarkt voor vragen, handtekeningen, koffie, aankopen (kunst of boodschappen) enz. Zo niet, dan ben ik in de buurt, bel me gewoon even op op 0624988036
Ik zie jullie graag in de Albert Heijn Breelaan 14 Bergen
== Persbericht == (Press Release in english below)
Vreemde vogel in supermarkt
Inge Koetzier van Hooff exposeert een wonderlijke verzameling tekeningen en schilderijen bij de Albert Heijn tijdens de Kunst10daagse (K10D) Bergen. Het is een selectie van haar nieuwste werk, een eclectisch geheel met als rode draad portret van mens en dier.
De portretten lijken een mix van klassiek en futuristisch. Inge experimenteert, schildert wat ze denkt te (gaan) zien.
Inmiddels bekend bij het publiek zijn de grote schilderijen die voor de ramen van de Albert Heijn aan de Breelaan hangen. Dit jaar zijn het vreemde vogels geschilderd op zeilboot zeil. Deze zijn 24 uur per dag van buitenaf te bekijken.
Binnen is de wand bij de winkelwagens goed gevuld met groot en klein werk. Van tekeningen in houtskool tot fel monochroom gekleurde schilderingen. Meest op zeilboot zeil aan kledinghangers, maar ook inkttekeningen in lijsten.
Het zijn (zelf-) portretten en (proef-) dieren vastgelegd in Inge's herkenbare transparante stijl.
In het kader van Albert Heijn Kunst Supermarkt ook dit jaar weer prints en kaarten verkrijgbaar bij de kiosk van de winkel. Inge zelf is veel aanwezig en steeds bereikbaar voor meer informatie.
Expositie Inge Koetzier van Hooff
20 t&m 29 oktober 2017 / Kunst10Daagse Bergen nh
Albert Heijn, Breelaan 14 Bergen
Meer informatie: www.koetziervanhooff.eu of 0624988036
== einde persbericht ==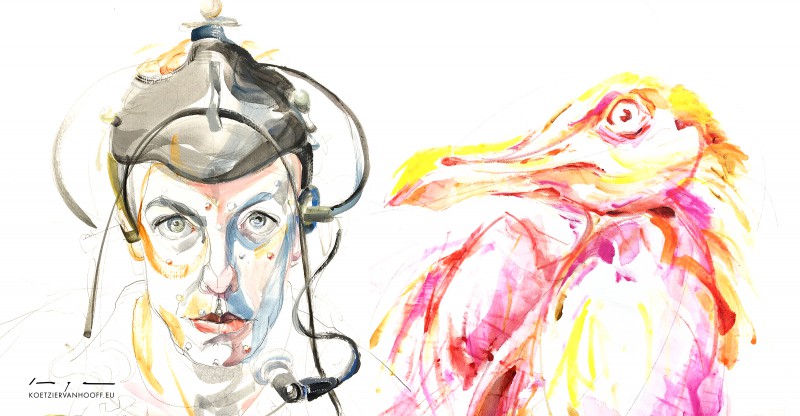 == Press Release ==
Odd duck in supermarket
Inge Koetzier of Hooff exhibits a strange collection of drawings and paintings in the Albert Heijn during the Art festival K10D Bergen. It is an eclectic selection of her newest work.
Her main theme as ever is portraits of people and animals. But this time the portraits seem to be a mix of classical and futuristic. Inge experiments, depicts what she sees or thinks to see.
Well known are the big paintings at the Albert Heijn windows. This year they are large strange birds painted on sailboat sail. These are on display from the outside 24 hours a day.
Inside the shop the wall at the shopping carts is filled with big and smaller work. Drawings in charcoal to bright monochrome coloured paintings. Mostly sailboat sails on clothes hangers, but also framed ink drawings.
There are (self) portraits and (guinea pig) animals made in Inge's recognisable transparent style.
Due to last year's succes of the Art Supermarket this year prints of Inge's work are again available at the shop's kiosk.
Inge is often present herself and always responding by phone or email for more information.
Exhibition Inge Koetzier van Hooff
20 th October 29th, 2017 / Art10Dagen Bergen nh
Albert Heijn, Breelaan 14 Bergen
More information: www.koetziervanhooff.eu or 0624988036
== end of press release ==