The Saatchi Art website has personal pages where you can show and sell your work.
This is my page with a selection of my paintings.
My painting "Morning Reading" was featured already three times in Saatchi Art's special Collections.
I'm very pleased to let you know that your work has been chosen to be featured in the Spotlight on Spain Collection on Saatchi Art's homepage. You can see the collection here: https://www.saatchiart.com/art-collection/Painting-Photography-Printmaking/Spotlight-on-Spain/722504/161314/view
It is sold to a collector in Sydney, Australia!
Saatchi Art requires a title with each work. Usually I don't put names or titles. I'm really not a writer. But I have to admit it is more practical than naming every new painting 'painting 01' or explaining "that painting of a dog, the one with the ears hanging down and that bit of blue on the side"…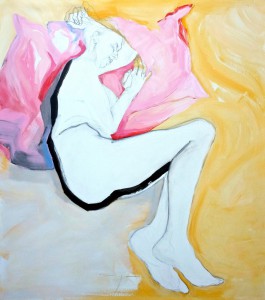 This one is called Lying in Pink and Yellow (don't know how I came up with that).