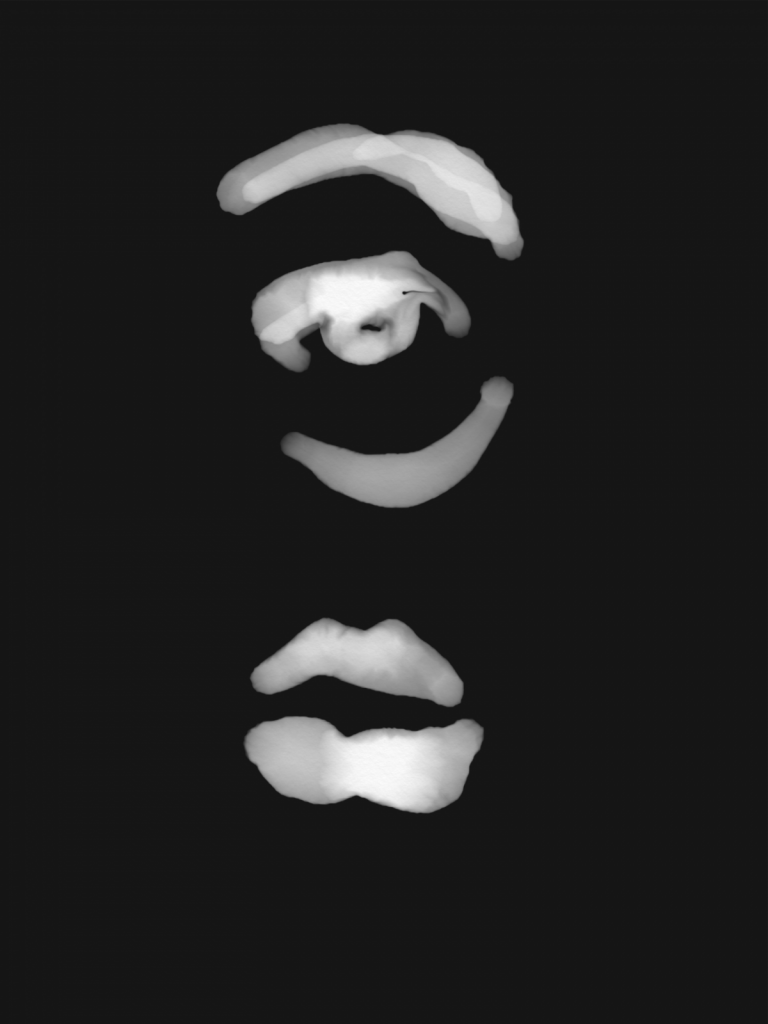 Portraits as visual characters written like calligraphy in ink on paper
肖像作为视觉字符,像纸上墨水的书法一样书写
Since I went to China several times to exhibit and work, I started painting a lot more with ink on paper. Due to those materials I went even further in painting just essentials. It is drifting to minimalistic, some would say even abstract painting. It is this minimalism that to me follows logically from more abundant paintings.
February 2020
The plan for spring 2020 was to stay and work as an artist in residence in China again. Due to the Corona virus outbreak this was postponed. To support the people in China me and my colleague artists friends in Foshan and Europe joined our work in an online exhibition by the Foshan Art Institute.  As registered at Dutch Culture, the network and knowledge organisation for international cultural cooperation.
My part was a video to show that people ( 'the Chinese' ) are individuals, each one with unique characteristics. It is a series of digital portrait paintings.
It was also published in the Foshan Daily Newspaper and by the Dutch Consulate in China on Weibo.
2020年春季的计划是再次留在中国以艺术家的身份工作。 由于冠状病毒的爆发,这被推迟了。 为了支持中国人民,我和我的同事在佛山和欧洲的艺术家朋友加入了我们的工作,参加了佛山艺术学院的在线展览。 注册于荷兰文化,国际文化合作的网络和知识组织。
该视频报道发表在《佛山日报》和荷兰驻华领事馆的微博上。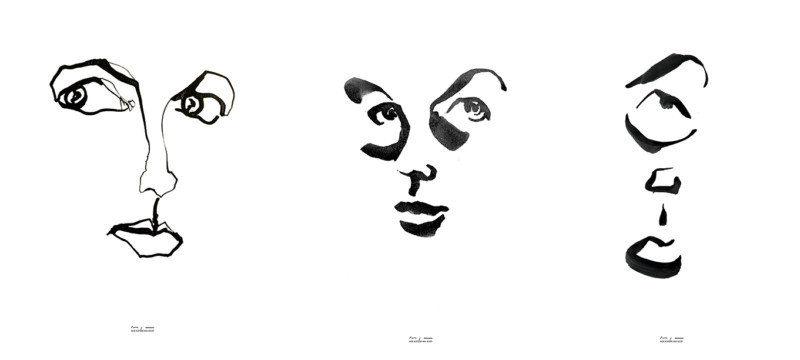 PORTRETTEN GESCHREVEN ALS KARAKTERS
Van observeren naar abstraheren.
In mijn werk probeer ik onnodige dingen weg te laten, 'less is more'. Sinds ik verschillende keren naar China ben geweest om te exposeren en te werken, ben ik meer gaan schilderen met inkt op papier. Vanwege die materialen ging ik zelfs nog verder in het schilderen van alleen de essentiële elementen. Zo is mijn werk steeds meer verschoven van realisme naar minimalisme – bijna abstract.
Omdat ik graag mensen teken en schilder worden ook de portretten anders, minimalistischer. Ik zet de karakteristieke visuele elementen van een persoon als een soort eigen gekalligrafeerde tekens onder elkaar. Zowel in inkt op papier, als digitaal getekend. Zo ontstaan portretten geschreven als karakters.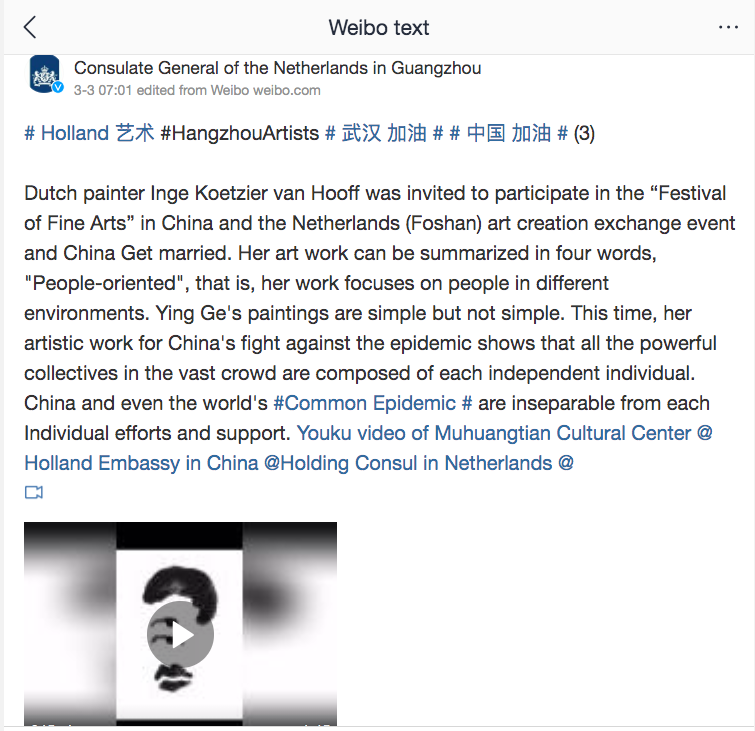 More about my link with China