Geef iemand een speciale kunst cadeaubon kado!
De cadeaubon is te koop en in te wisselen zowel online als in mijn atelier.
Om prints, tekeningen of schilderijen aan te kopen.
Voor tekenles, workshops of model/portret tekenen.
Elk gewenst bedrag.
Onbeperkt houdbaar.
Afbeelding en tekst op de bon kan naar wens aangepast worden.
Is dat een uniek kado of niet?!
Bel/mail/app mij even, dan is het zo geregeld!
+31624988036
inge@koetziervanhooff.eu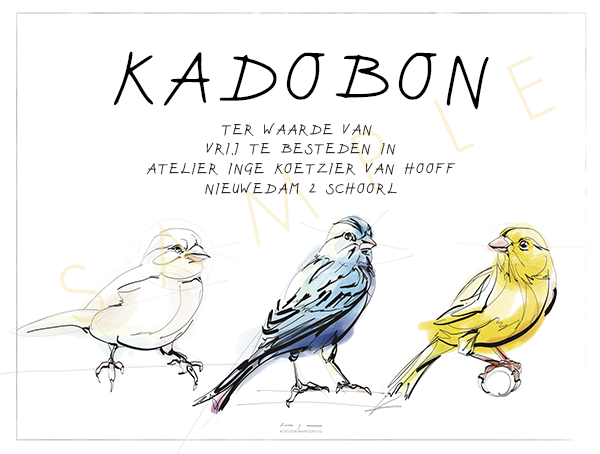 Of course this GIFT CERTIFICATE is available in all languages!
"A voucher given as a present that is exchangeable for a specified cash value (any value is ok) of goods (original drawing, painting or print) or services (drawingclass, workshop, model or portrait drawing session) from a particular place of business (my studio in Schoorl, Holland)."