Een nieuwsbrief met alvast wat leuke gebeurtenissen om te onthouden en een tip voor een leuke kalender!
Click here for the english version of this newsletter.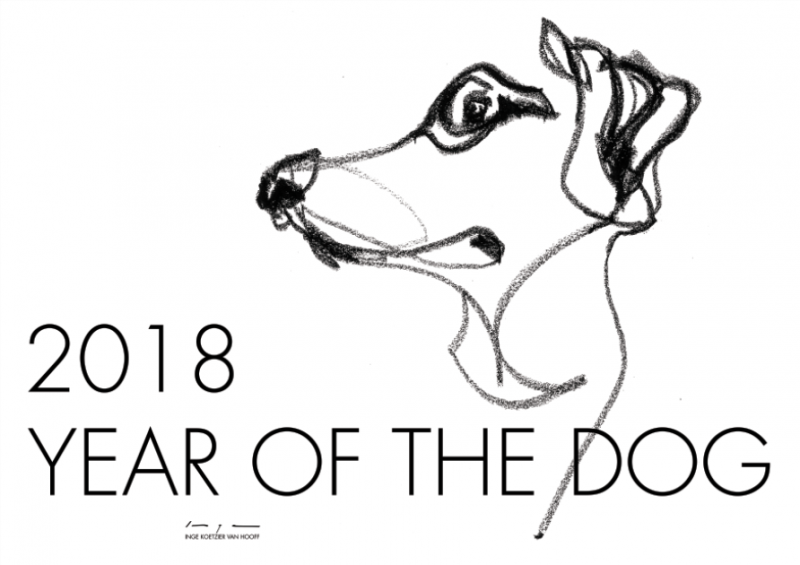 De 2018 Jaar van de Hond kalender die ik heb gemaakt is te gebruiken als jaarkalender, maar ook als verjaardagskalender (verjaardagstip 1 mei ;-)) Hoewel het Jaar van de Hond volgens de Chinese jaartelling pas begint op 16 februari 2018 wens ik jullie nu alvast een heel mooi nieuw jaar!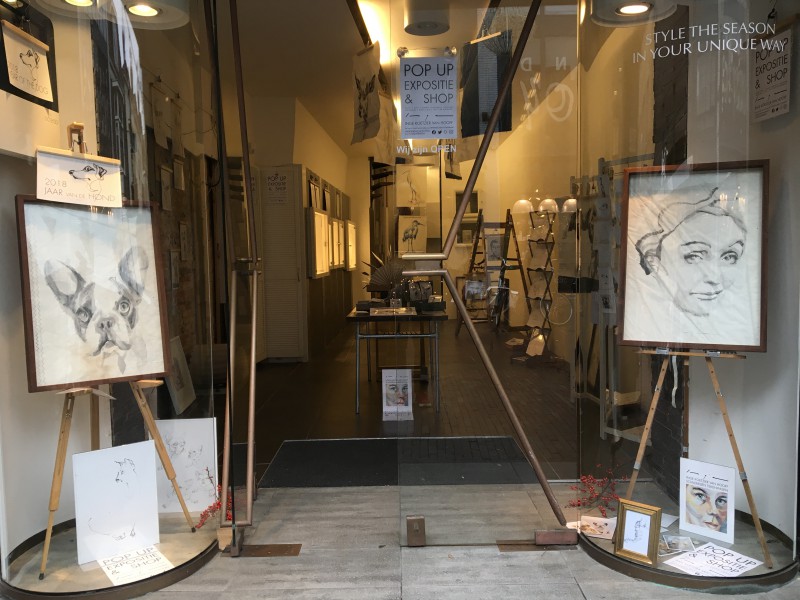 De prachtige raamgevel van Laat 108 in Alkmaar is gevuld met mijn werk. Ook binnen zijn er tekeningen, schilderijen, prints, de kalender, kaarten enz. van mij te zien. Het is een Pop Up Expo & Shop, dus tijdelijk. Kom even kijken als je in de buurt bent? Check wel eerst even de openingstijden van die dag/week  of bel me even op, ik open ook op afspraak!
Over honden gesproken, may I present you …Kees! Is ze niet geweldig? Wat was deze portretopdracht superleuk om te doen!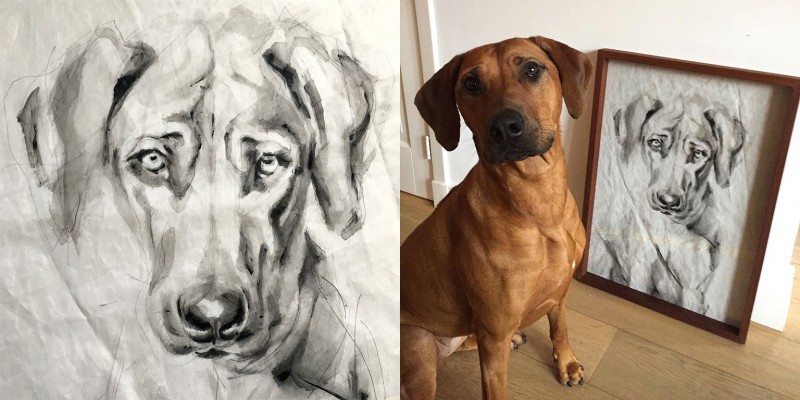 Ik teken en schilder graag dieren, maar ook mensen: o.a. deze prachtige dames heb ik ook dit jaar in opdracht mogen tekenen: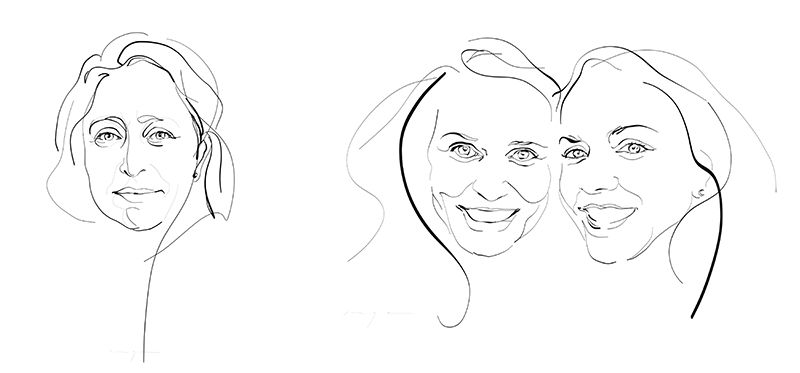 Kriebelt het om zelf te gaan tekenen? Wil je iets inspirerends doen het nieuwe jaar? Kom modeltekenen! Iedere eerste zaterdag van de maand. De eerstvolgende is 6 januari.
Wil je graag een basis leren in modeltekenen, doe dan ook mee met de workshop op 13 januari!

Deze tekensessies, lessen en workshops organiseerde ik voorheen op Lanzarote. Inmiddels woon ik al weer 6 maanden in Nederland en vinden deze leuke tekenactiviteiten plaats in mijn atelier in Schoorl. Je bent van harte welkom mee te doen of een keer op atelierbezoek te komen.
De nieuwsbrieven verstuur ik nogal onregelmatig. Wil je op de hoogte blijven van wat ik zoal doe, volg dan mijn website of social media. Daar zet ik ook nieuw werk op of video's zoals deze gemaakt door Max Koetzier bij de opening van de expositie bij Eva D Designerstore!
Als afsluiter van het bijzondere jaar 2017 wens ik jullie alle goeds en moois voor 2018!