WAT: Modeltekenen sessies
WIE: Model; steeds een ander, gekleed, model om te tekenen. Tekenaars; Iedereen – zowel beginners als gevorderden!
HOE: Soms snelle figuur schetsen, soms wat langere standen voor portret – dit is afhankelijk van het model.
Het is geen 'les', maar als je wilt dan help ik je op weg en je kan altijd vragen stellen. Je kan vooral ook lekker je eigen gang gaan en deze uren benutten om te oefenen en te experimenteren!
WAT NOG MEER: Al het basis materiaal is aanwezig, je mag natuurlijk ook eigen materiaal meenemen.
Muziek aan, koffie en thee erbij, gewoon een ontspannen sfeer waarin iedereen zich kan concentreren en zich comfortabel kan voelen.
WANNEER: Iedere eerste zaterdag van de maand van 11-12.30 uur EERSTVOLGENDE KEER IS 2 JUNI
WAAR: In mijn atelier in Schoorl, (gemeente Bergen) Noord Holland (adres volgt na aanmelding)
HOEVEEL: 15 € incl. materiaal, koffie, thee etc.
(Bij naaktmodel is prijs 20€, dat geef ik vtv aan)
DOE MEE: Geef je graag op tijd op, minimum aantal personen is 4, maximum 10!
email: inge@koetziervanhooff.eu / whatsapp: +31-624988036
ZIE: vorige modelteken sessies
Model Marko april 2018
Model Cecile maart 2018
Model Sem februari 2018
Model Pauline januari 2018
Model Jinke december 2017
Modelteken sessies Lanzarote 2015-2017
Wil je graag wat meer 'houvast' geef je dan op voor een workshop Modeltekenen of Portrettekenen!
Heb je het nog nooit gedaan? Of wil je het weer eens doen? Doe dan gewoon een keer mee!

---
Model drawing every first Saturday of each month!
In my studio in Schoorl (Bergen nh) you can join the upcoming model drawing sessions.
There will be a live model, dressed, every session somebody different. Mostly short poses for quick figure sketches, sometimes slightly longer portrait poses – depending on the model. If you like I'll help you getting started, but feel free to do your thing. You can use the basic materials handed out or bring your own favourites. There's music, coffee and tea, to provide a relaxed atmosphere in which everybody can concentrate and feel comfortable.
Join a model drawing workshop if you like to learn the basics of model drawing! A workshop portrait drawing is also very useful to learn the skills.
Every first Saturday of the month, 11-12.30 hr  NEXT SESSION: JUNE 2 
In my studio in Schoorl, (municipality of Bergen) Noord Holland, the Netherlands
15 € including all materials, coffee, tea etc.
(Nude model 20€, I'll let you know in advance)
Please let me know on time, minimum number of persons is 4, maximum 10!
email: inge@koetziervanhooff.eu/whatsapp: + 31-624988036
Would you like to draw with your own group (friends, family, business etc.)? –  you can! In my studio or on location in or around Alkmaar. Just contact me without any obligation to discuss all possibilities.
Model Marko april 2018
Model Cecile maart 2018
Model Sem February 3 2018
Model Pauline January 6 2018
Model Jinke December 2, 2017
Previously I organised this kind of model drawing sessions on Lanzarote, here you can see how fun that was!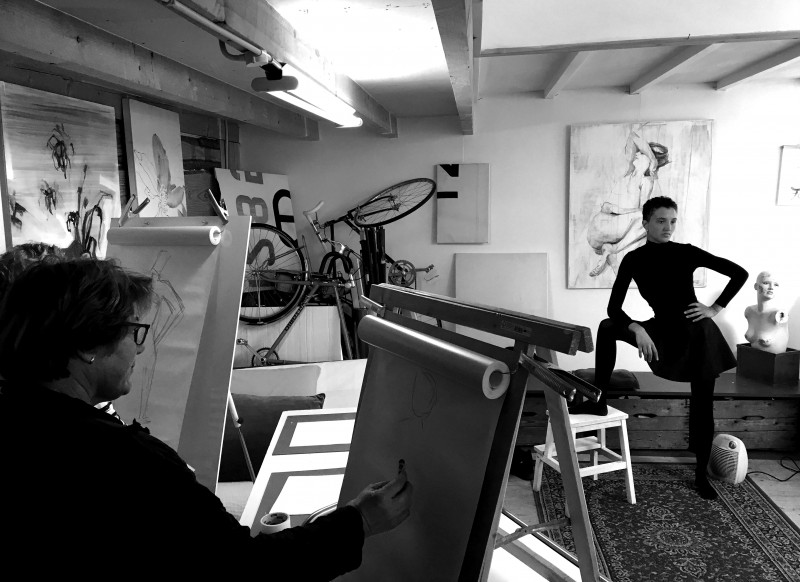 ---