ATELIER 

ART CAFÉ
WAT: Iedere keer iets anders! In mijn atelier zorg ik elke week voor een nieuw thema, andere materialen en technieken. Ik help opstarten en begeleid. Ondertussen muziek aan, drankje erbij en lekker aan de gang!
Geen zorgen over 'of je het wel kan', het gaat juist om nieuwe dingen uit proberen, om de lol van het dóen!
Denk aan: tekenen, collages, 3D, inkt, verf, houtskool, karton, tape, potlood, thema, creatief, ontspannen, doen, thee, koffie, koek, chocola, muziek, gezellig!
Samen is leuker! Kom 13 februari samen met een lieverd die ook graag creatief doet – 2 voor 1 prijs! Kom met je man of je meissie, je dochter of broer, vriendin of buurman, …wie vind jij lief? <3 <3
WAAR: In mijn atelier in Schoorl, een gezellige plek waar alles kan! Gemeente Bergen nh, vlakbij Alkmaar.
WANNEER: elke dinsdagavond van 19.30 tot 21.00 uur.
WIE: iedereen!
WAT NOG MEER:
Niks moet, alles mag. Alles wordt verzorgd en uitgelegd/begeleid, incl. alle materialen en koffie/thee enz.
Slechts 50,- per maand/4 avonden! Of 15,- per keer los. 

13 februari: 2 personen voor 15 euro!

Vanaf 6 februari 2018
Lijkt het je leuk, maar kan je nooit op dinsdagavond? Laat me dan weten wanneer het jou wel goed uitkomt, wie weet kunnen we het verschuiven of nog een extra Atelier Café  organiseren.  Het minimum is 4, maximum 10 personen.
(Om een indruk te krijgen: voorheen organiseerde ik Art Café op Lanzarote. Zie hier hoe leuk dat was!)
Het wordt leuk, leerzaam, gezellig, nieuw, je maakt iets met je eigen handen!
Doe gewoon mee, geef je op en ik laat je weten waar en hoe:
Whatsapp: +31624988036
Email: inge@koetziervanhooff.eu
Thee & Tekenen! Koffie & Knutselen! Cake & Collage! Limonade & Lijmpistool! Koek & Karton!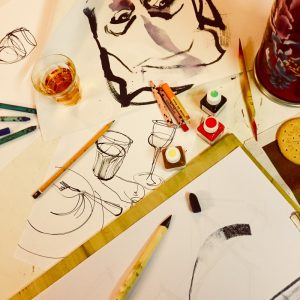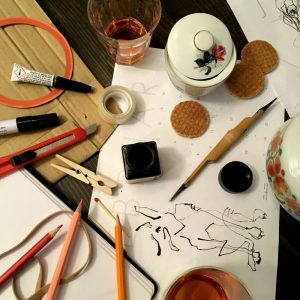 ---
Atelier Art Café!
Come and join these creative evenings in my studio! Try out new things, techniques, materials, themes while having a relaxed and fun night together.
Starting February 6, every Tuesday 19.30 – 21.00 hr.
50,- month/4 x incl. all materials, coffee/tea etc. (or 15,- 1 x)  On 13 February: 2 persons 15 euro!
Coffee & Crafts! Tea & Tape! Sip & Sketch! Cake & Collage!
Come and try, sign up:
Whatsapp: +31624988036
Email: inge@koetziervanhooff.eu