De WORKSHOP MODELTEKENEN van 13 januari: Model Jeppe stond sterk voor de dames! Hij werd beplakt met tape als hulpmiddel bij het tekenen. De tekenaars schetsten vel na vel en op de lange rol. De ontwikkeling in het kijken en steeds trefzekerder neerzetten van het model was geweldig goed in de tekeningen te zien!

De volgende 'snelcursussen' modeltekenen zijn bekend: 15 februari in de avond en op 31 maart in de ochtend. Iedere workshop is een afgerond geheel, een basis waarmee je de zelf verder kan in de modelteken sessies!
Heb je het nog nooit gedaan? Of wil je het weer eens doen?
Doe mee en leer ook hoe leuk en makkelijk modeltekenen kan zijn!
In deze workshop help ik je op weg. Ik leer je hoe je de tekening kan opbouwen. Het kijken en schetsen. Je zal veel en snel tekenen naar een live (gekleed) model. Juist het vrij vlot wisselen van standen maakt dat je je concentreert op de belangrijkste lijnen en vormen en niet verzandt in details. Je zal zien hoe snel je durft en je je ontwikkelt in zo'n korte tijd!
Lijkt het je leuk om mee te doen aan de maandelijkse modeltekensessies dan is dit een goeie voorbereiding!
De volgende workshops zijn:
Donderdag 15 februari van 19.30 –  22.00 uur
Of
Zaterdag 31 maart 2018 van 11.00 – 13.30 uur
In mijn studio in Schoorl, (gemeente Bergen) Noord Holland
45 €  incl. alle materialen, koffie, thee etc.
Geef je op tijd op, voor deze workshop is plaats voor 5 à 6 personen.
email: inge@koetziervanhooff.eu / whatsapp: +31-624988036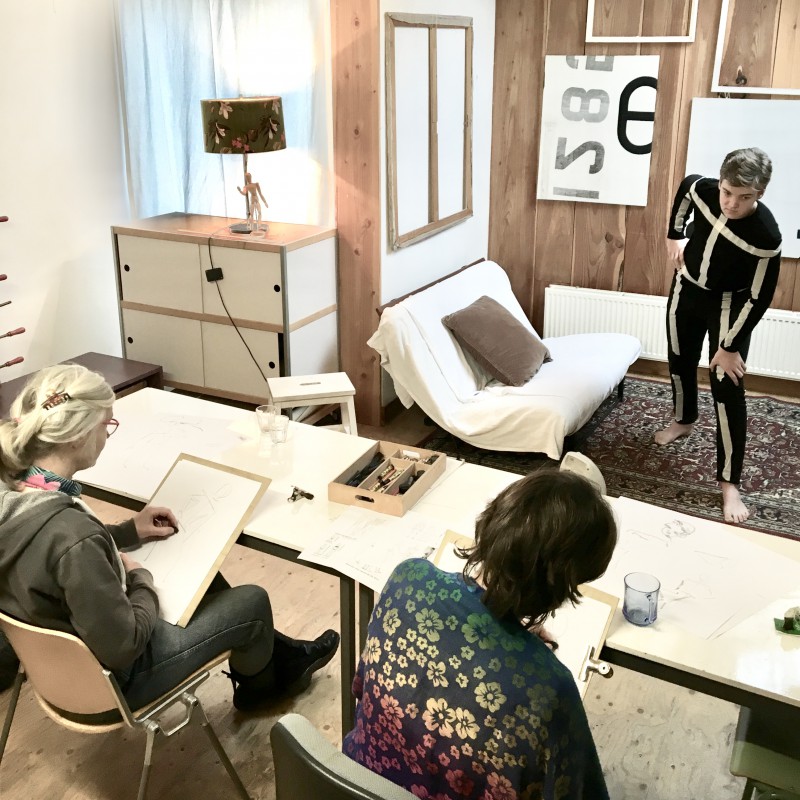 ---
WORKSHOP MODELDRAWING:
Model drawing … you can learn it too!
In this workshop I will help you getting started. I'll show you how and what to observe, how to 'build' your drawings and how to make quick sketches of a living (dressed) model. The quick change of positions makes you focus on the main lines and shapes and to not loose yourself in details. You will be surprised how fast you will dare and develop in such a short time!
If you would like to participate in the monthly model sessions -starting in January- this workshop is a good preparation (as is the workshop portrait drawing). (See what good fun this was on Lanzarote!)
Saturday March 31 2018, 11.00 – 13:30 hr
In my studio in Schoorl, (municipality of Bergen) Noord Holland
45 € including all materials, coffee, tea etc.
Subscribe on time, this workshop will be only 5 to 6 people.
email: inge@koetziervanhooff.eu/whatsapp: + 31-624988036